Professional orchestral training for young musicians in the heart of Western Sydney
The Australian Chamber Orchestra, Penrith Conservatorium at The Joan and the Penrith Symphony Orchestra partner to deliver the Penrith Youth Orchestra Program to increase musical activity and engagement in the Penrith catchment.
Penrith Youth Orchestra (PYO) was established in 2018, building on the success of the Penrith Strings Program, which the partner organisations established in 2015. The youth orchestra brings together school-aged musicians from the Penrith region to participate in regular rehearsals, workshops and performances.
INFORMATION FOR APPLICANTS
No audition is required to join PYO. We encourage all applications, even if students are well above or slightly below the recommended minimum standard guidelines.
Places are allocated according to performance standard and ensemble experience.
The recommended minimum standards are:
Violin: Grade 5 AMEB / Suzuki Book 5 or equivalent
Viola: Grade 3 AMEB / Suzuki Book 3 or equivalent
Cello: Grade 5 AMEB / Suzuki Book 4 or equivalent
Double Bass: Grade 3 AMEB / Suzuki Book 3 or equivalent
Woodwind, Brass & Percussion: Grade 4 AMEB or equivalent
2020 CALENDAR
TERM 1 – PYO ACADEMY
Friday 21 February | Saturday 22 February | Sunday 23 February
TERM 2
Sunday 31 May | Sunday 7 June |  Sunday 14 June
TERM 3
Sunday 9 August | Sunday 16 August | Sunday 23 August
TERM 4
Sunday 8 November | Sunday 15 November | Sunday 22 November
FEES
The fees for the PYO ACADEMY are $150/ student or $100 / student for siblings participating concurrently.
Fees for term 2 through to term 4 are $120 / student or $90/ student for siblings participating concurrently per term.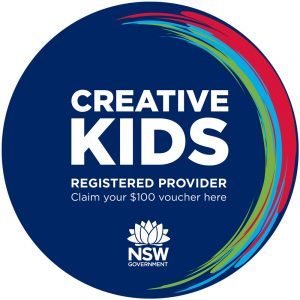 As a registered provider for the Creative Kids program, you can redeem your voucher with us and let your child develop new skills. Enrol them in Penrith Youth Orchestra so they can create something great.
For more information about PYO, or questions about enrolment or the Creative Kids voucher please contact:
Brian Kjim. PYO Coordinator: brian.kjim@penrith.city | 02 4732 8686
The general program provides students with a unique mix of opportunities to learn, rehearse and perform with professional artists and tutors. Visit the PYO website to learn more information.

Immerse yourself in a weekend of music!
Dates: Fri 21 – Sun 23 February
Term 1 2020 sees the PYO with its first bootcamp style weekend – the PYO Academy. Join us to have the exclusive opportunity to learn from musicians from the ACO!