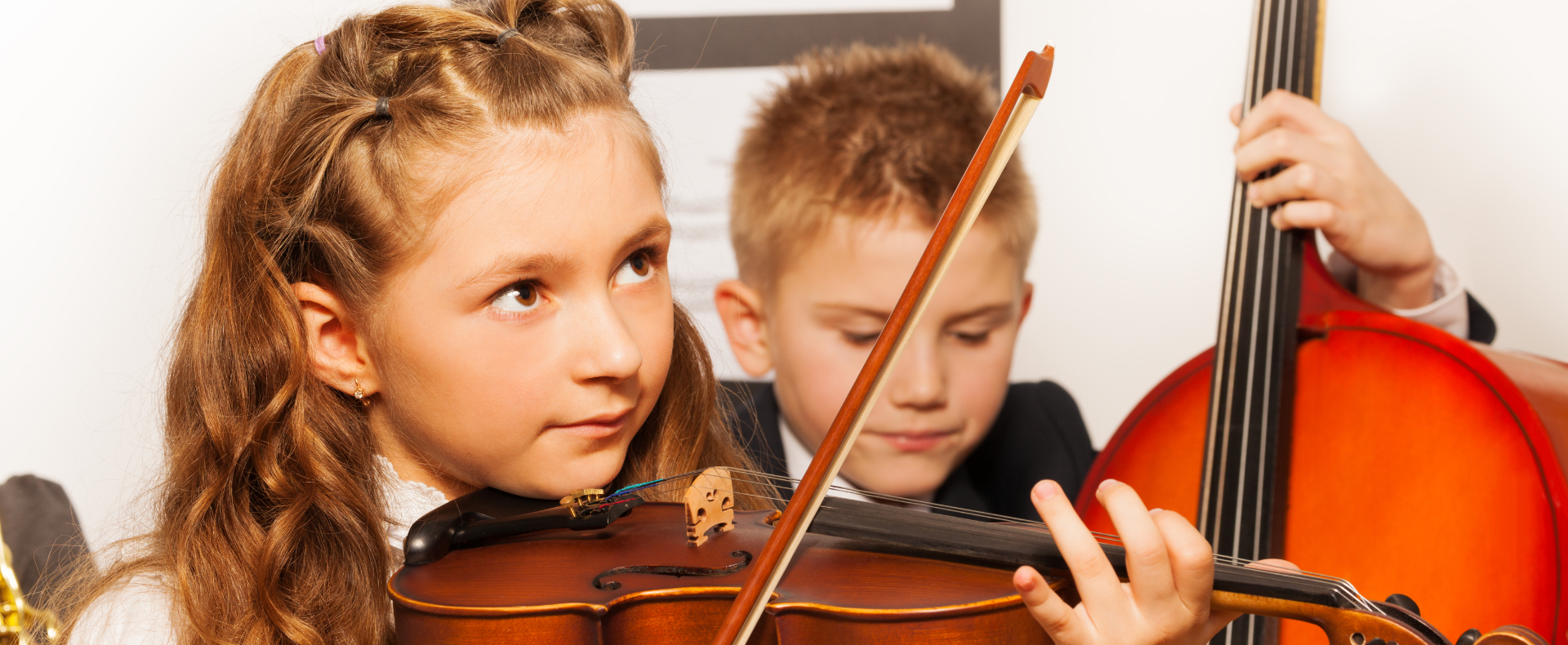 Penrith Strings: Junior String Ensemble
Calling all young violinists, violists, cellists and double bassists!
Penrith Strings is an ensemble program that will introduce your child to shared learning and the magic of being part of a musical group.
Bringing together children of similar levels, and breaking away from the lonely tedium of solo practice, Penrith Strings offers participants the richness, joy, and satisfying sounds of a string ensemble.
Your child will be introduced to ensemble techniques, develop technical accuracy and build on skills essential for orchestral and chamber music playing.
This junior strings program will help your child to build their confidence and enhance their solo skills. A great forerunner to the Penrith Youth Orchestra, your child will forge lasting relationships with other students who love music.
Learn in a caring, supportive environment from the best educators available at Penrith Conservatorium.
Benefits:
Introduction to ensembles – preparation for orchestra and chamber music
Development of aural skills
Improvement of sight reading skills
Musicality, phrasing, bowing techniques, fingering
Listening and peer support in a music setting
Suitable for:
All students of Violin, Viola, Cellos and Double Bass
Times: Wednesdays 4:30pm to 5:30pm (1 hr)
Location: Ensemble Room 2 (Level 1, Former Studio 13 & 14)
Dates:
Term 1 – Wed 19 Feb to 8 Apr (8 weeks)
Term 2 – Wed 13 May to 1 July  (8 weeks)
Term 3 – Wed 29 July to 23 Sep (8 weeks)
Term 4 – Wed 19 Oct to 9 Dec (8 weeks)
Cost: $160 per term for 8 weeks (1 hr class)
Book now
Depending on enrolments, levels and age ranges, 2 sub-groups may be formed.
Violin: Min. 6mths of prior learning – AMEB Grade 6 (or equivalent)
Viola: Min. 6 months of prior learning – AMEB Grade 6 (or equivalent)
Cello: Min. 6 months of prior learning – AMEB Grade 6 (or equivalent)
Double Bass: Beginners – AMEB Grade 6 (or equivalent)
Performance opportunities: 2 per year
Final week of Term 3: Informal family and friends Show and Tell
End of Year Concert: Conservatorium Concert inclusion

Anna Smith is a local musician from Winmalee in the Blue Mountains.   Her musical career began at the age of five learning both Violin and Piano from local teacher and founder of the Blue Mountains Youth Orchestra – Mrs Kathleen Stokes.
At the age of 12 Anna successfully gained entry into the Conservatorium High School with Violin chosen as her Principal instrument.
Anna was awarded scholarships in both Violin and Piano and continued her Violin studies at the NSW State Conservatorium of Music under the tutelage of Laszlo Kiss and Carl Pini then Leader of the Australian Chamber Orchestra.
Anna was awarded both her AMus.A with Distinction and her ASCM Associate degree from the Conservatorium before completing High School.
She continued her studies of Music at The University of Sydney whilst completing her B.Ed in Secondary Mathematics.  She currently teaches Mathematics at Winmalee High School and is the Regional Coordinator of the Public Schools Strings Program working with members drawn from the Blue Mountains right through to Parramatta.  This select group performs annually at the Sydney Opera House.
Anna teaches a select group of private students and is tutor to the 1st Violin section of Penrith Youth Orchestra working with conductor Paul Terracini and Guests from the ACO.
She continues to perform regularly as Concert Master of the Penrith Symphony Orchestra as well as in musical productions and events across Sydney.